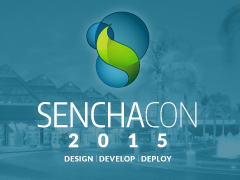 I'm Ross Gerbasi, and I'm a Senior Engineer at Sencha, located in Chicago. I've been programming for over 15 years, and I've worked with Sencha Touch for over 3 years. I specialize in new and emerging media including video and graphics production, and I've contributed to the open source community on emerging interactive solutions. My work on Sencha and Cordova integration allows me to fuse my many skills into a single focus to provide app developers with tools that help make it easier to build mobile apps.
At SenchaCon, I'll be doing a technical talk on application configuration and the microloader. I also have some really exciting announcements, but you'll need to watch my video to hear about them.

If you're interested in the best platform for developing apps on multiple devices, you should come out to SenchaCon. We have some great stuff to show you guys, and I hope to see you there. If you haven't registered, there's still time. Email me and I'll send you a 20% discount code.

Deep dive into application configuration and the microloader
Learn how app.json and the microloader work together to give you development time convenience as well as run-time flexibility and efficiency. Use build profiles to target multiple themes, locales and devices for a single application.
Visit the SenchaCon website for more details on all of the sessions and speakers.