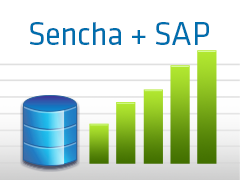 Today we're releasing the Sencha Touch oData Connector for SAP, available on the Sencha Market. We've partnered with SAP to make it easier for SAP customers to build HTML5 applications using Sencha Touch. Sencha Touch is often used to build apps that mobilize enterprise applications, and using the oData Connector, Touch developers can now connect to a variety of SAP mobile solutions such as Netweaver Gateway, the Sybase Unwired Platform, and more. We announced our partnership with SAP earlier this year and have been working actively with SAP to build this shared capability to make it easy for developers to quickly build rich mobile enterprise applications.
The download comes with a getting started guide, a sample application, and the Sencha Touch oData Connector for SAP. The sample application, Flights Unlimited, connects to a hosted demo SAP Netweaver server and uses the oData Connector to query flight times, passenger manifests, pricing information and more. The application is built with Sencha Touch, so it's pure HTML5 and can be deployed to the web, or hybridized with Sencha Touch Native Packaging for distribution to an app store. It's a complete and comprehensive application that shows how developers can leverage the power of Sencha Touch and SAP mobility solutions together.
If you want to learn more, SAP hosted a webinar from SAP Labs in Palo Alto where we talk with SAP about how we're enabling the oData capability and show off the Flights Unlimited demo. The recording of the webinar is available for streaming online.
We're excited to see what our global development community will build with the new oData for SAP connector!