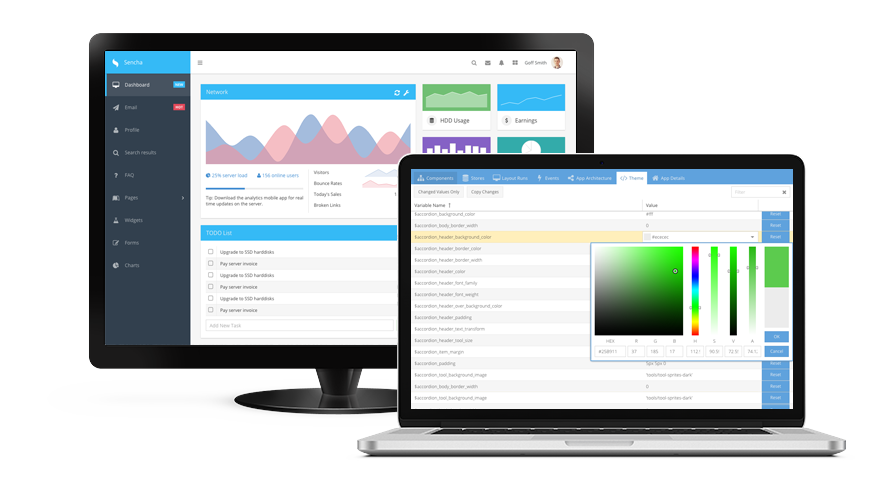 SenchaCon 2015 brought together more than 600 Sencha developers, customers and partners from around the world to discuss the future of app development – it gave us an amazing opportunity to engage with our community and better understand your needs. Our goal is to help you design, develop and deploy innovative web applications, so we've been working hard to deliver tools that simplify your workflows and improve your productivity. During the keynote presentation, we introduced a brand new tool called Sencha Inspector.
Sencha frameworks have always enabled you to build great web applications across a variety of platforms and devices — but while modern browsers do offer great JavaScript and HTML5 debugging tools, they still understand very little about your applications. We thought long and hard about what debugging features would be most useful to developers, and we're proud to share Sencha Inspector Early Access release.
Debug Your Apps – In Any Browser
As a standalone desktop application, Sencha Inspector is designed to provide intelligent debugging capabilities for any Sencha application (Ext JS 4.2.0+, Touch 2.1.0+) – regardless of the browser you're using.
Features
With Sencha Inspector Early Access, you can:
Inspect your application's structure (MVC, MVVM) and view its details
Visualize your component tree, data stores, layouts, and events during runtime
Analyze your application for issues such as overnested components
Theme your application by modifying the Sass in near real-time
Sencha Inspector complements your favorite debugging tools with minimal setup – all while helping you gain a better understanding of your applications and the Sencha frameworks.
Best of all, you can try Sencha Inspector Early Access today! Let us know what you think. You can ask questions and share your feedback in the Sencha Inspector forum.
Watch this video to see all of the new features in action.