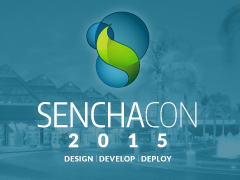 It's less than three weeks until SenchaCon. If you haven't registered, sign up today and save before registration closes on April 2nd. You don't want to miss our lineup of technical talks, news about merging our frameworks, updates on theming, plus training and the great parties.

You'll have plenty of face time with Sencha engineers, but if you want to meet 1 on 1 to talk about your app, sign up for Ask Sencha. We've set up a special area in the Community Pavilion for 30 minute tech sessions with Sencha experts, so you can get a simple code review, feedback on your application architecture and layout, or help with custom components.
We have a limited number of spots, so fill out the Ask Sencha Appointment Form on the SenchaCon registration site (login and click on link at the top of the registration page) and email the form to margot.hansen@sencha.com by April 2nd. We'll send you a confirmation email with the details.
You can still sign up for a SenchaCon Day Pass for either Wednesday, April 8th or Thursday, April 9th. The choice is yours and the discounted price is only $750 — that's more than 50% off the regular conference pass price.
Don't miss out on Ext JS and GXT training — sessions only $200 per class. Sencha instructors will teach beginner and advanced sessions on Tuesday, April 7 at the same location. Only a few seats left.
Let the countdown begin!