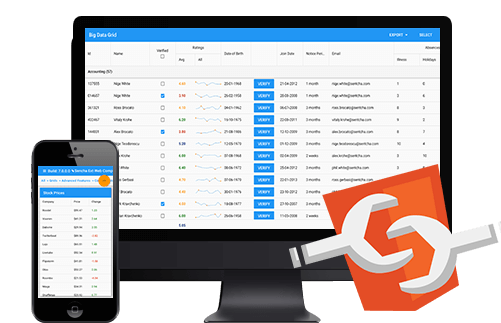 We're pleased to announce that the early access version of Sencha ExtWebComponents is now available. ExtWebComponents provides hundreds of pre-built UI components that you can easily integrate into your web applications built with any framework, or no framework at all.
ExtWebComponents Early Access Highlights
Harness the power of big data with the powerful Modern Grid, which includes Grid Filtering and Grid Locking capabilities.
Allow your users to slice and dice data with the Pivot Grid ad-hoc report builder component.
Create beautiful, dynamic applications with the 115+ Material design inspired components including Chips, Multi-select Combobox, Color Picker, Tabs, Dialogs, Sheets, Menus, Toolbars, and Lists.
Develop for all screens and environments using responsive layouts.
Build easy-to-use data entry forms using the extensive collection of form fields.
Add interactive scheduling functionality to your app with Calendar components.
Add stunning data visualization capabilities to your app with an extensive collection of charts and D3 visualization components.
Compress and optimize application builds with the provided Webpack plugin.
View ExtWebComponents Kitchen Sink examples for hundreds of components.
Try ExtWebComponents Early Access
Learn More
We invite you to join us for a webinar on May 8th at 10am PDT / 1pm EDT / 6pm BST to learn more and get an in-depth preview of how to use ExtWebComponents. Register here: https://www.brighttalk.com/webcast/11505/357554
Share Your Feedback
We're looking forward to seeing the awesome web applications you create with ExtWebComponents! We value your feedback and hope you will tell us about your experience by completing our survey, so we can continue to improve the trial user experience. We also invite you to share your feedback in the ExtWebComponents forum.