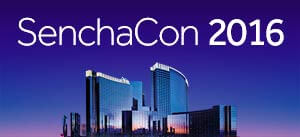 We're very excited to announce that registration for SenchaCon 2016 is now open. SenchaCon 2016 is taking place November 7-9th in Las Vegas at the Aria Resort & Casino. It's the largest universal application event in the world where developers, industry leaders, and Sencha experts come together to discuss the future of the modern web.
The theme this year is Design | Develop | Test. You'll have the option to attend technical skills training, informative keynote, and deep-dive developer sessions that will give you an inside look at groundbreaking technology advancements. This is a great opportunity for you to harness the power of this event to improve your skills and drive your business success.
Super Early Bird Pricing
The first 100 registrants get special super early bird pricing of $995.
SenchaCon Highlights
Here's what attendees said they loved about SenchaCon last year:
Seeing amazing/powerful things being done with Sencha
Hearing the vision for Ext JS
Getting deep dive on new architecture
Talking to Sencha engineers directly
Meeting fellow developers
Getting fresh new ideas and networking
Watch the SenchaCon Highlights video:


Call for Speakers
The SenchaCon 2016 team is hard at work on building an incredible agenda. We're looking for great content from our customers and partners about experiences with using Sencha frameworks and tools. We've put together all of the benefits, track descriptions, and requirements. Click here to see all of the details and start working on your proposal.
See you in Las Vegas!